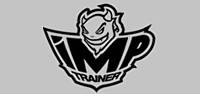 The IMP kite from Ozone is an open cell foil kite designed with ease of use, durability, enjoyment and exceptional quality. The Imp is often referred to as a trainer kite because its a small, super stable kite with smooth and easy control characteristics. The IMP is super easy to fly and delivers exciting performance but most of all it is tons of fun for everyone of all ages. The Ozone IMP now comes in 3 different models for 2007. The new IMP Dual, the IMP Trainer and the all new IMP Quattro quad line IMP.

The Imp Range offers the flyer the perfect start into the world of kiting with three different styles to choose from and each style has a range of four colours and five sizes, offering you a kite that is perfect for your needs. Even if you move onto larger power kites, the IMP will always serve as a perfect beginners kite that will give a fun and exciting start into power kiting for friends and family.

The sizes range from 1.0 meters (squared) for lighter pilots or higher winds up to 4.5 meters (squared) for a kite with loads of power.


The NEW IMP Trainer

This version of the Imp comes with a complete 3 line control bar with built in safety release system. The IMP Trainer is designed for people wanting to learn the basics of kite handling on a bar and is the perfectly designed kite for kite surfing schools with the idea to progress to kite surfing, kite ground boarding, or snow kiting. If the kiter gets into trouble they can simply let go the bar which will activate the safety system and the kite will safely fall to the ground with no power. Pick the bar back up and it will easily get going again.

The entire Imp line of kites has been built to the same exacting standards as all of Ozone's Power kites using the same materials and construction techniques found in their top of the line performance kites. The Imp has incredible stability, direct handling and flies perfectly in light or strong winds with a wide wind window.

The IMP is the perfect gift for friends and family or anyone who is looking for a safe and exciting way to learn the fun sport of power kiting. Help introduce new pilots to power kiting without any stress and watch them fall in love with kiting with safety and extreme amounts of fun.


Imp Trainer Specifications:


Sizes

1.5

2.0

2.5

3.5


Root Chord (mm)
Flat Area (m2)
Flat Span (mm)
Flat AR
Proj Area (m2)
Proj Span (mm)
Proj AR
Number of Cells


854
1.57
2207
3.11
1.25
1699
2.25
14


966
2.0
2496
3.11
1.64
1921
2.25
14


1110
2.65
2869
3.11
2.16
2208
2.25
14


1272
3.48
3287
3.11
2.84
2530
2.25
14