The best of both worlds!
The Revolution BLAST is one of the larger models in Revolution's history and tremendous fun to fly. In fact...it's a Blast! If you want to live a whole new kite flying experience, you have got to get a hold of the Rev Blast. The power and speed produced by an impressive 9 1/2 ft. leading edge supported by four extra length vertical spars will absolutely astonish you. The performance of this kite is sensational.

The Blast, a fast, stable, and powerful kite, is excellent at side-slides, and has great "edge" control. Combining the control and stability of a Rev. 1.5 SLE with the power and performance of the Speed Series (Shockwave & Supersonic) results in the ultimate BLAST on the flying field. You gotta have this kite! Great precision in light winds (3 mph) makes this a perfect recreational kite.

Your new Blast kite will come complete with the standard SLE (7/16") 3-piece leading edge that is great for your power flying days.
You will also receive FREE Revolution's new ¼" UL 3 piece leading edge (complete packages only - the extra 1/4" leading edge is not included when ordering your Blast as "kite only"). This lighter and more flexible leading edge will greatly enhance your light wind flying capabilities and put a whole new spin on this awesome Revolution kite.


The power in winds just over 12 mph is fantastic for traction kiters. As the wind and power increases, you can dump 90% of the power with a flick of your wrist.

The Blast lets you feel the excitement of power kiting without the risks inherent in this relatively new sport. In fact, it is a great way to safely learn and master the techniques required for power kiting while having a blast in the process.

The Revolution Blast comes complete with kite, Bag, Laser Pro lines, carbon fiber handles, and a professional Training Video.
The Blast also comes with the 1/4" leading edge for light wind performance.

The kite only option for your Blast will only include the Blast kite, storage sleeve and the SLE frame. The 1/4" leading edge is not included.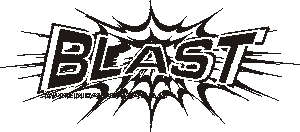 Colors may change without notice
Colors may vary slightly from pictures shown.