No previous EXPerience required!


Revolution kites are easier to fly than you would ever imagine. The classic 4-line Revolution design exemplified in the EXP model is great for new enthusiasts. With a 93" leading edge (almost 8 foot long), 31" height, and a weight of only 8.8 ounces, the EXP performs in a wide range of wind conditions. Fly in a breeze of 4 mph, or in gusty winds up to 15 mph. This durable, flexible, and forgiving model gives you time to react to its flying characteristics, as well as the ability to perform all the great Rev moves that will impress you as well as the audience you will attract when you fly.

Skilled moves include forward AND reverse flight, propeller like spins, and "brakes" allowing total speed and flight control. Along with the popular "dive-stop on a dime - back up - fly away" maneuver, this kite has been clocked flying over 35 mph. All this is possible flying the EXP with its rip-stop nylon sail framed with Revolutions own Advantage Graphite spars and shafts. Stainless steel handles with comfortable grips keep you well in control of this incredibly fun flying machine.



The Revolution EXP comes complete with kite, Bag, Sport Grade Flying lines, Stainless Steel handles, and a professional Training Video.

KITE ONLY includes the kite, EXP frame and bag only Lines, handles and DVD are not included..

SAIL ONLY includes the EXP sail only. Frame, lines, handles, storage sleeve and all accessories are not included.

TRAVEL PACKAGE KIT This exclusive travel kit includes the EXP kite, a very nice compact travel bag and Revolutions own compact travel frame. The Travel frame is custom made to easily fit into most suitcases and even your briefcase. The travel frame is the same 3 wrap ultralight frame in a easy to carry compact size. You can order the travel kit as a "Kite Only" setup, or with the complete package that includes the DVD, instruction booklet, lines and control handles.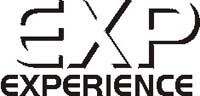 Colors may change without notice
Colors may vary slightly from pictures shown.